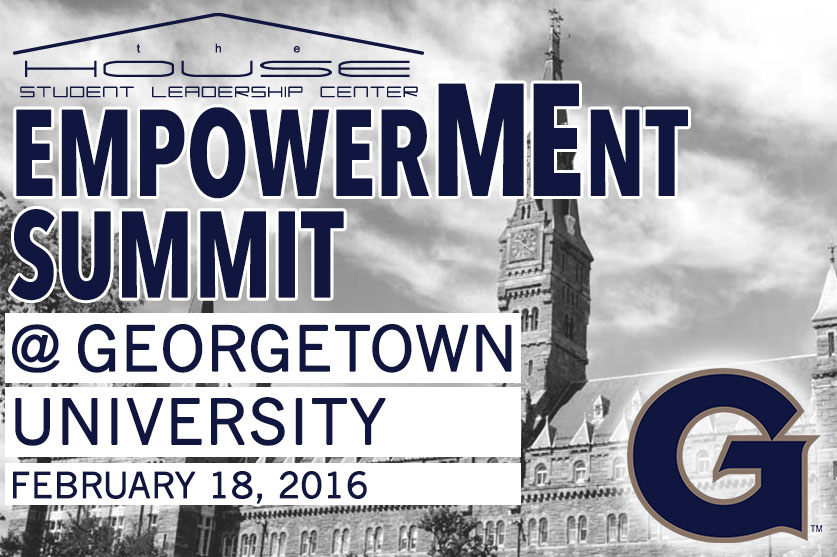 January 06, 2016
EmpowerMEnt Summit 2016: Initiate the Future
Today, The House Student Leadership Center announced that its 2016 EmpowerMEnt Student Leadership Spring Summit will be held at Georgetown University on February 18, 2016.

The Summit will coach 200 middle and high school students selected from Washington, DC area public schools on the fundamentals of improved teamwork and a greater sense of significance needed for leadership with the right mindset. One of an ongoing series, The EmpowerMEnt Summit is the commitment of The House Student Leadership Center to build and connect existing leadership concepts of the Center's model. These include how leaders can bridge any gap and connect people, whether the divide between their group is race, religion, gender, or age, for the intellectual and social challenges of their times. Students in Georgetown University's McDonough School of Business will merge with students in attendance for expanding young people's excitement for, awareness of and access to the many expressive and educational opportunities offered by Georgetown University.
The Summit is the commitment of Helen McCormick, President and Founder of The House, Inc. and its partners to merge leading high school athletes and high performing high school scholars with a large demographic of students that are underserved, living in poverty and attending low performing schools to reinforce important principles as life-long learners.
Joining the Spring 2016 EmpowerMEnt Student Leadership Summit is Keynote Speaker Jon Gordon, Wall Street Journal Best-selling author, and one of the most sought after speakers in the world today. His best-selling books and talks have inspired readers and audiences, and his principles have been put to the test by numerous NFL, NBA, and college coaches and teams. He and his training/consulting company are passionate about developing positive leaders, organizations, and teams. His clients include The Miami Heat, LA Clippers, Fortune 500 companies; and his books are assigned as summer reading by professional and collegiate sport teams.

About The House Student Leadership Center
A nationally recognized youth development program and developer of the National Capital A Cinderella Ball, The House Student Leadership Center is an originator and provider of out-of-school time programs for pre-teens and teens in Greater Washington, DC. Now in its tenth year, The Center's program initiatives work to improve health, education, and employment outcomes for middle and high school students. Helping students achieve college access is its 1K Destination: Graduation college readiness and scholarship initiative. The Catalogue for Philanthropy: Greater Washington recognized The House Student Leadership Center as "One of the Best" high-impact nonprofits of the year for its dropout prevention and mentoring programs in Northern Virginia and the District of Columbia. The House Student Leadership Center is a 501(c)(3) not-for-profit organization.

About Georgetown University
Georgetown University is one of the world's leading academic and research institutions, offering a unique educational experience that prepares the next generation of global citizens to lead and make a difference in the world. We are a vibrant community of exceptional students, faculty, alumni and professionals dedicated to real-world applications of our research, scholarship, faith and service.
Established in 1789, Georgetown is the nation's oldest Catholic and Jesuit university. Drawing upon the 450-year-old legacy of Jesuit education, we provide students with a world-class learning experience focused on educating the whole person through exposure to different faiths, cultures and beliefs. Students are challenged to engage in the world and become men and women in the service of others, especially the most vulnerable and disadvantaged members of the community.
These values are at the core of Georgetown's identity, binding members of the community across diverse backgrounds.
How to participate in the EmpowerMEnt Summit:
Student Sponsor: Make a Contribution of $100
Ambassador Sponsor: Make a Contribution between $100 - $500
Champion Sponsor: Make a Contribution greater than $500
Corporate EmpowerMEnt Giving Levels Are Available. For more information, contact info@thehouse-inc.com.
Select 'MAKE A DONATION' button at the top of the website.