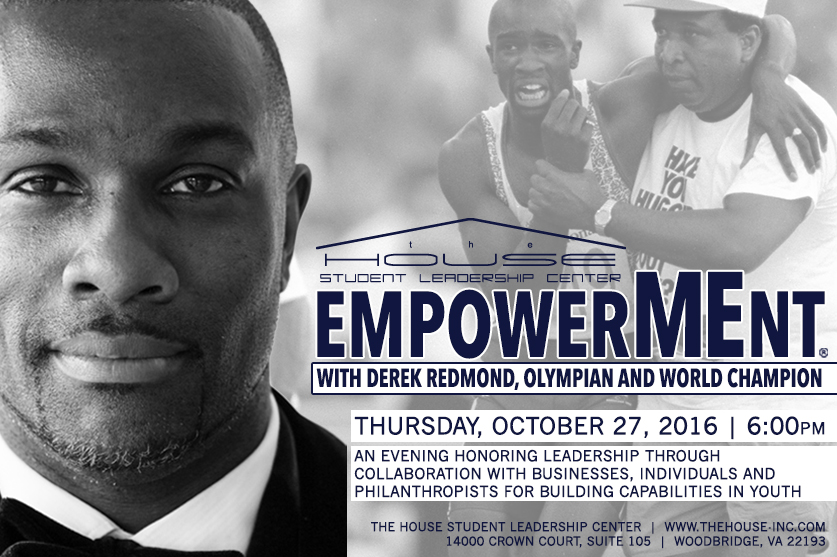 August 03, 2016
Olympian and World Champion, Derek Redmond, to Headline EmpowerMEnt® Reception and Networking Scene at The House Student Leadership Center
Tickets are available here.
Olympian and World Champion, Derek Redmond, whose moment in Olympic history is one of the most enduring sport stories of modern times, will speak at an EmpowerMEnt evening reception and networking scene at The House Student Leadership Center in Woodbridge, VA on Thursday, October 27, 2016 at 6:00 p.m.

It was August 3, 1992 at the Olympics in Barcelona, Spain where Redmond recorded the fastest time of the first round, winning his quarterfinal heat. He was ready to realize his lifelong dream of earning a gold medal in the 400-meter dash. After an unbelievable start and on world record time, he saw the finish line while rounding the turn into the backstretch. All of his training had come down to these few minutes in time, and then, this happened. Suddenly, he felt a pop and fell to the ground with a shooting pain that ran up his leg. Those who were in close proximity heard him scream out in agony. Unfortunately, he tore a hamstring. But, full of determination, picked himself up to somehow finish the race. He and his father, Jim, who made it through security onto the track to help, were cheered by the 65,000 fans in the stadium, and millions more watching on television around the world witnessed the incredible scenes that summed up the power of the human spirit. At no other time in sports history has an athlete had so much support while finishing last.

Redmond's appearance and keynote presentation will highlight The House Student Leadership Center's EmpowerMent initiative. EmpowerMEnt concentrates the Center's services, which build capabilities in youth through an array of innovative strategies, including better onramps to higher education and career preparedness. The reception will honor leadership through collaboration with businesses, individuals and philanthropists whose financial support to The House Student Leadership Center make a significant impact on "at risk" factors of youth in the Washington, DC region.

Derek Redmond receives plenty of attention due to the many popular guests he brings when appearing before crowds. Attend the first class evening reception for business networking and support EmpowerMEnt with a tax-deductible donation of $100 per person.
To become a 2016 Corporate Sponsor or for Event tickets, please contact The House Student Leadership Center's Event Office at (703) 909-5459.
The House Student Leadership Center is located at 14000 Crown Court, Suite 105, Woodbridge, VA 22193. For more information, visit here.
About The House Student Leadership Center
A nationally recognized youth development program and developer of the National Capital A Cinderella Ball, The House Student Leadership Center is an originator and provider of out-of-school time programs for pre-teens and teens in Greater Washington, DC. Now in its eleventh year, The Center's program initiatives work to improve health, education, and employment outcomes for middle and high school students. Its EmpowerMEnt initiative concentrates the Center's services, which build capabilities in youth through an array of innovative strategies, including better onramps to higher education and career preparedness. The Catalogue for Philanthropy: Greater Washington recognized The House Student Leadership Center as "One of the Best" high-impact nonprofits of the year for its dropout prevention and mentoring programs in Northern Virginia and the District of Columbia. The House Student Leadership Center is a 501(c)(3) not-for-profit organization.

Contact:
The House Student Leadership Center
(703) 909 – 5459
info@thehouse-inc.com